‌
Renewable Energy Zones Interactive Map
Inputs & Assumptions Data Dashboard
Watch this intro video to learn more!
Watch Now or
Visit the Dashboard.
---
---
Vision and Goals
A Sustainable Hawaii
At Hawaiian Electric, our top priority is building a sustainable Hawaii in which our children and grandchildren, communities, customers and employees will thrive together.
Climate Change Action Plan
In 2021, Hawaiian Electric announced a bold Climate Change Action Plan centered on reducing carbon emissions as much as 70% by 2030 compared to 2005 levels and reaching net zero carbon emissions by 2045.
Reducing carbon emissions by more than two-thirds over this decade will be a stretch. We know it's achievable, and if everyone pitches in, we'll create a cost-effective, sustainable and resilient energy system for future generations.
Clean Energy Goals
A key strategy to reach net zero emissions is generating our energy from clean, renewable sources. As an island state, we can't rely on importing clean energy from neighboring states. Fortunately, Hawaii has an abundance of renewable resources that can power a resilient grid.
Clean Energy Vision
"Hawaii Powered" is our vision for using 100% local, clean energy. It celebrates finding solutions for a clean energy future right here in Hawaii. Clean energy for Hawaii, by Hawaii:
Achieves energy independence
Supports our Climate Change Action Plan and decarbonization goals
Some of the ways we'll get there:
Retiring and reducing use of fossil-fueled generating units
---
Using more grid-scale and customer-owned energy storage solutions
---
Expanding geothermal resources
---
Adding at least 1 gigawatt of clean energy projects (including community-based shared solar projects)
---
Creating customer programs that incentivize the use of clean, lower-cost energy
How will this transition affect community members?
Creating a clean energy future will shape our lives on individual, community and statewide levels. No matter where you live on the islands, you will likely experience changes that come with transitioning to 100% local, clean energy.
Customers
As a customer, you'll start seeing more energy choices and programs to incentivize the use of clean energy. You'll also have opportunities to share feedback with us that will help inform our customer programs and initiatives.
Communities
In your community, you may see more solar panels on rooftops, more community-based renewable projects, and development of new grid infrastructure. You'll see opportunities to share insights to help us identify and develop projects and create a more equitable clean energy future.
Statewide
On a statewide level, it will take collective and sustained action to cut carbon emissions across the economy. This includes transportation, agriculture, shipping, manufacturing and tourism—in other words, every sector can contribute to decarbonization of our state.
Clean Energy Today
Hawaiian Electric has the privilege of serving as the largest power utility in the state, providing electricity for 95% of residents on Oahu, Maui, Molokai, Lanai and Hawaii Island.
In 2021, about 38% of Hawaiian Electric's energy sales came from renewable sources. This means we have nearly quadrupled the amount of renewable energy since 2010, when under 10% of electricity sales came from renewables. We're proud of the progress we've made, but we still have a long way to go. There are many existing and planned facilities to generate clean energy across the islands. See maps of existing and planned facilities in our 2020-2021 Sustainability Report.
A resilient clean energy grid is diverse and balanced. Relying on a single source of energy makes us more vulnerable to energy markets, unexpected events and natural changes in energy sources (for example, days when tradewinds slow down or the sun is not shining). Integrating diverse energy sources and technologies:
Expands our energy options
Helps us adapt to evolving energy needs
Makes it easier to bounce back from unexpected events like earthquakes or storms
Provides more reliable power and predictable pricing for customers
Where does Hawaiian Electric's renewable energy come from?
Our renewable energy comes from many local sources with wide-ranging technologies. Click below to learn about the types of clean energy we use today.
Customer DER

Wind

Solar

Biomass

Geothermal

Biofuel

Hydro-energy
Customer DER
Customer distributed energy resources, or DER, refers to smaller generators located throughout the energy grid, such as private rooftop solar or battery storage systems mounted on customers' homes and businesses. These systems and tools contribute to a resilient clean energy grid, which is based on diverse renewables and different scales of energy generation. Hawaii leads the country in customer-sited DER and has several programs available to customers who want to offset their energy bill by investing in clean energy generation.
Path to Hawaii Powered
Integrated Grid Planning
Our work to move toward a Hawaii Powered future is guided by a process called Integrated Grid Planning, or "IGP." This process brings many people together to build a resilient and reliable grid from local, renewable energy sources with various technologies and scales.
In this context, resilience means adapting to social, environmental, economic and technological changes to meet current and future energy needs.
Looking for Integrated Grid Planning documents?
Planning Process Timeline
We are currently developing the plan for putting together Hawaii's clean energy grid. This work includes considering potential future locations for clean energy projects and grid infrastructure. Throughout the planning process, we will provide information about our progress and invite community members and stakeholders to get involved and share input.
Learn more about IGP accomplishments and upcoming work in the graphic below, also available as a PDF.
Key Considerations
Planning for a clean energy future is not as simple as unplugging from fossil fuels and plugging into renewables like solar and wind. There are many other factors we must consider that are related to the types of clean energy we invest in. These key considerations include time, affordability, land use, community and resilience/reliability.
Planning Challenges
Our challenge is to create a clean energy grid that stays on track with the state's timelines, stabilizes costs for customers, reduces conflicts with other land use priorities, minimizes impacts to communities and improves our overall energy resilience.
This is challenging because these factors are sometimes in conflict—for example, some energy projects would keep costs more consistent, but would also have greater impacts on communities.
Together with our stakeholder groups and community members, we work to prioritize, consider and connect these many factors.
Time
How long will it take to come online?
Affordability
What will it cost to design, build and maintain?
Land Use
What is the footprint? How does this affect other land use priorities?
Community
How will it affect neighbors, jobs and the environment?
---
Updates by Island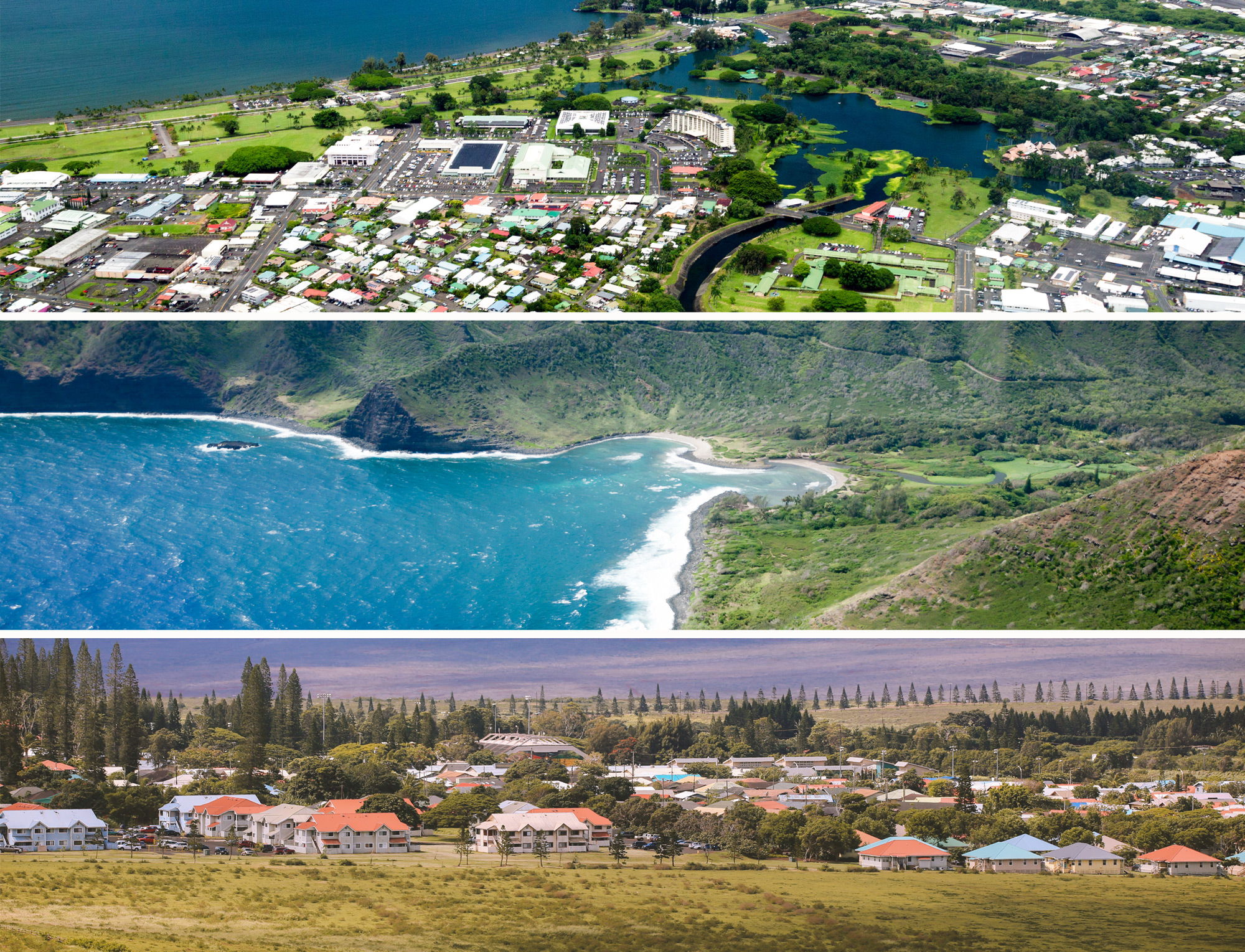 ---
Community Engagement
Partnering with the Stakeholder Council, Working Groups, the Technical Advisory Panel and the broad public is essential to align our planning with statewide priorities and move Hawaii one step closer to a more equitable clean energy future.
We are grateful for the participation of community members across the islands since our planning began in 2019. We appreciate the opportunity to listen and collaborate with communities on potential solutions, and we value all the feedback we receive.
Sign up for email updates
We'll send you updates about our latest progress and opportunities to get involved.
Take our short survey
Help us better understand you and your energy needs by completing this short online survey.
Request a presentation for your organization
Invite us to give a short presentation and answer questions at your next community meeting or event.
---
We gather and consider two types of feedback throughout the IGP process:
Community: What are community members' visions and priorities for a clean energy future?

Technical: What needs to happen from scientific, engineering and economic perspectives to meet our carbon goals?
We appreciate the opportunity to listen to the community's concerns and collaborate with stakeholders on potential solutions, and we take all feedback seriously. However, there are instances in which we are unable to directly integrate all the input we receive into our decisions and recommendations. In those cases, we will follow up by sharing our reasoning for decisions and why we have chosen to integrate certain points.
We engage four groups in the IGP process:
Stakeholder Council with representatives from cities, each island, the state, partner agencies and developers. This group provides strategic guidance to Hawaiian Electric, and helps to ensure alignment with interests across the islands we serve.

Working groups that serve in an advisory capacity. These specialized groups are focused on topics like social and economic resilience, transmission planning and the sourcing and evaluation of contractors.

Technical Advisory Panel with experts in energy technologies and engineering. This panel is an independent source of peer assessment.

The public, including customers and community members across the islands we serve. Public participation informs each step of our planning process.
These four groups are not working alone—there are many others outside the Hawaiian Electric IGP process who are involved in creating a clean energy future. These groups include policymakers and regulators (like the Public Utilities Commission), developers and community organizations.
We are grateful for community members' involvement since our planning began in 2019. Our team appreciates the opportunity to connect and collaborate with communities that we serve and of which we are a part. We committed to equitable, inclusive and transparent community engagement at each step of the planning process. This means:
Providing accessible and inclusive opportunities to engage
Offering multiple ways to engage, both online and in person
Hosting in-person meetings in familiar locations that are accessible by public transportation
Providing information in multiple languages and in formats that meet or exceed accessibility standards
Reaching out to and integrating feedback from people who are historically underserved
Prioritizing outreach to underserved and potentially most impacted communities, such as those closest to places where new energy projects may be located
Listening to community members' experiences, priorities and visions and using their feedback to shape planning outcomes
Being accountable for feedback we have received
Reviewing and considering public feedback as part of planning decisions, including where to locate new energy projects and grid infrastructure
Clearly communicating how community input shapes outcomes throughout the planning process through feedback loops
In 2022, you'll see invitations to share your thoughts online and in person about:
Locations for future energy projects
How best to involve your community in new project identification and development
We will use input from community members and technical experts to inform our recommendations to the Public Utilities Commission about these two topics.
---
Safety is our top priority!
Our outreach strategies will align with all local, state and federal guidelines for public health and safety.